About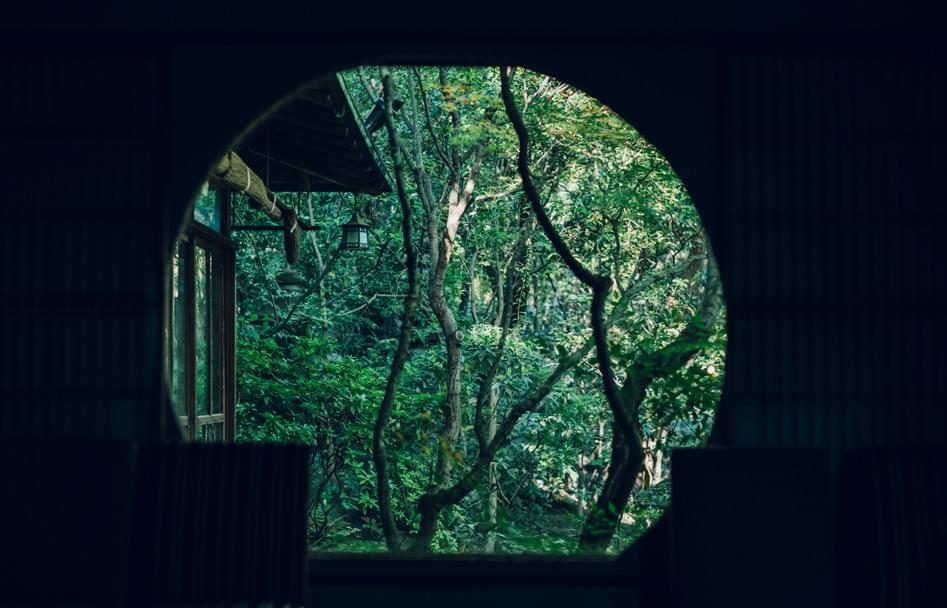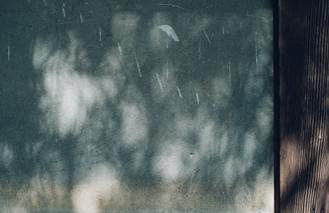 まだ見ぬ時と出会う場所。
たった一篇のストーリーにふれるだけで、
初めて訪れた土地の原風景が心に広がっていく。
ほんとうに豊かな物語は、
たとえ百年、千年の時を経ても、
今生まれたばかりのような
発見と感動を呼び起こしてくれます。
かつて、ここを流れていた時間。
幾世にもわたってそれを伝えてきた人々の営み。
そして今、生きた言葉、生きた体験として
物語に新しい光を当てようとしている
コンシェルジュたち。
時空を超えて、いくつもの想いが重なり、
あなたの時間と出会うことで、
〝"時〟"は、多様な彩りと手ざわりを宿していく。
VMG HOTELS & UNIQUE VENUES
まだ見ぬ〝"時〟"と出会える場所。
Timeless stories waiting for you.
A single page of a story will conjure up a nostalgic image of picturesque landscape in your mind.
A truly charming story is never worn by time. Instead, even after a thousand years, such a story remains evocative and brings about the fresh joy of discovery.
In former times, each individual narrative was crafted in a single place.
And over the passing of generations, people have sought to pass on their stories.
Today, our concierges, inspired by past stories, strive to shed new light on these stories, by reinventing them as vivid messages and unique ideas for your extraordinary stay.
Over time, as passion has begot passion, our stories intertwine with your life story.
And then, both the passage of time and our stories will gain a brighter, more tangible patina.
VMG HOTELS & UNIQUE VENUES,
where timeless stories are waiting for you.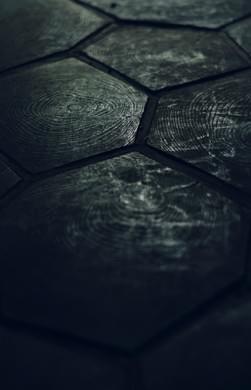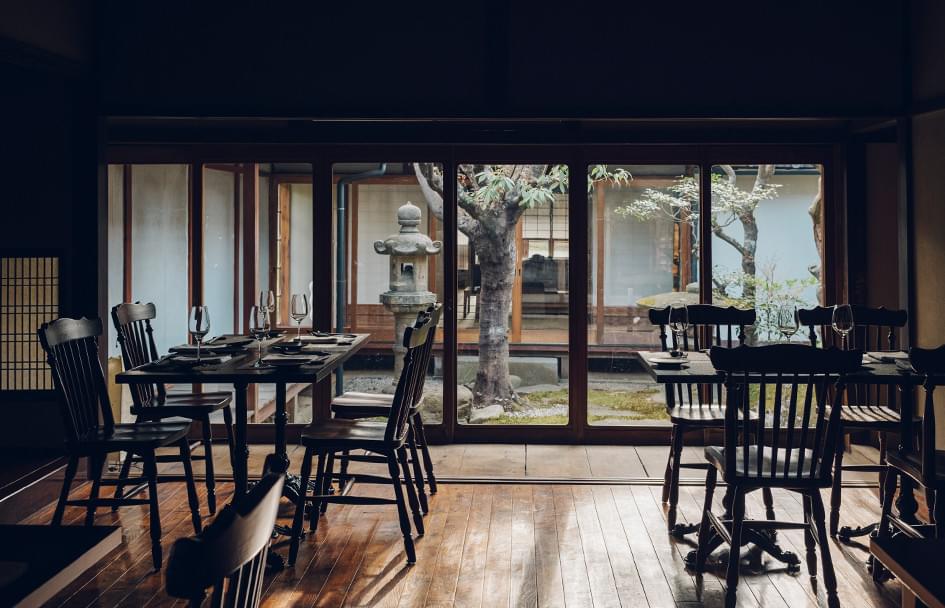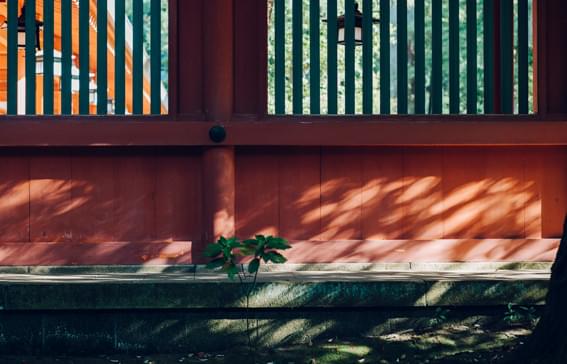 Who is VMG HOTELS & UNIQUE VENUES?
Evoking special moments to enrich your mind and life.
Our mission is to protect valuable Japanese cultures. We have been putting all our efforts into the preservation of traditional properties and townscapes by breathing life into heritage buildings. In order to pass down these cultures, it is crucial that the heritage buildings are not only preserved, but also utilized and needed by people. Through our business of hotels, restaurants and event venues, we have continued to shine a light on the unique value of each building, striving to create a once-in-a-lifetime moment for our guests.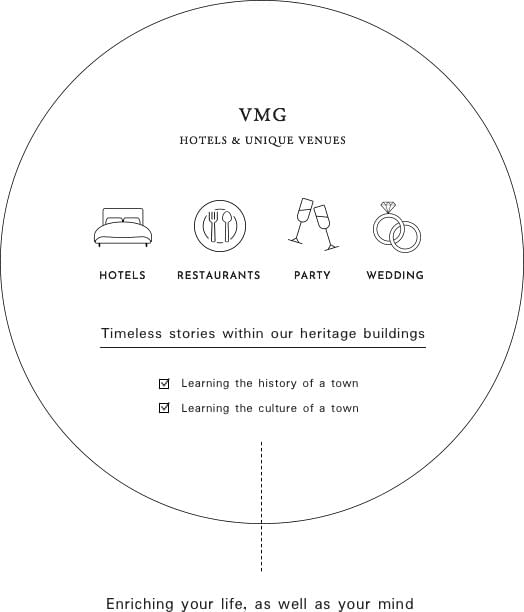 Timeless stories waiting for you in each unique venue
Each and every venue run by VMG HOTELS & UNIQUE VENUES is literally unique. Within each venue, we provide our services to make your special occasion unforgettable. Our venues are of great value in a historic and cultural sense, surrounded by the charms of seasonal landscapes and scenic beauty. As these buildings have long been cherished by people despite being closed to the public for many years, they are evocative of ever-lasting, timeless beauty. By taking advantage of our venues, we hope that our guests will immerse themselves in local histories and cultures and savor their true richness. For your pleasure, we are committed to creating unforgettable moments for each special occasion.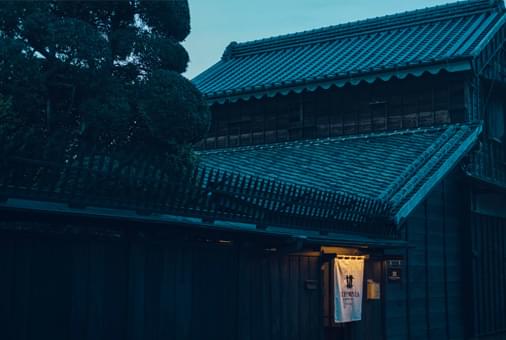 Traditional building preservation districts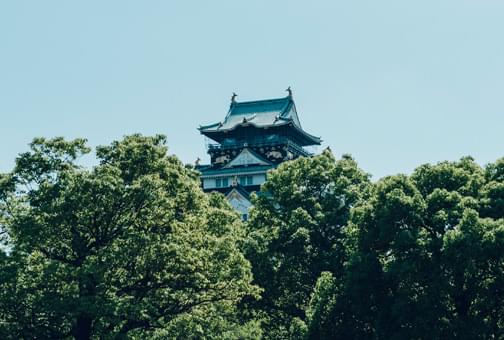 Nationally designated historic sites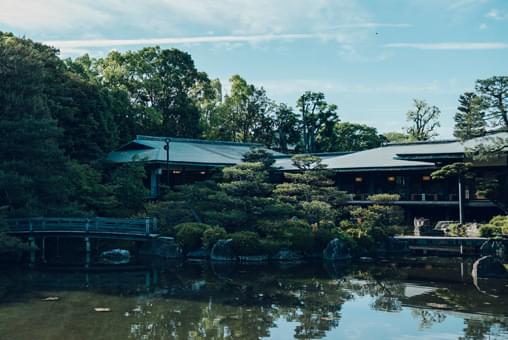 Temples and shrines
Hotels、Restaurants、Party&Weddingについて
Wide range of quality venues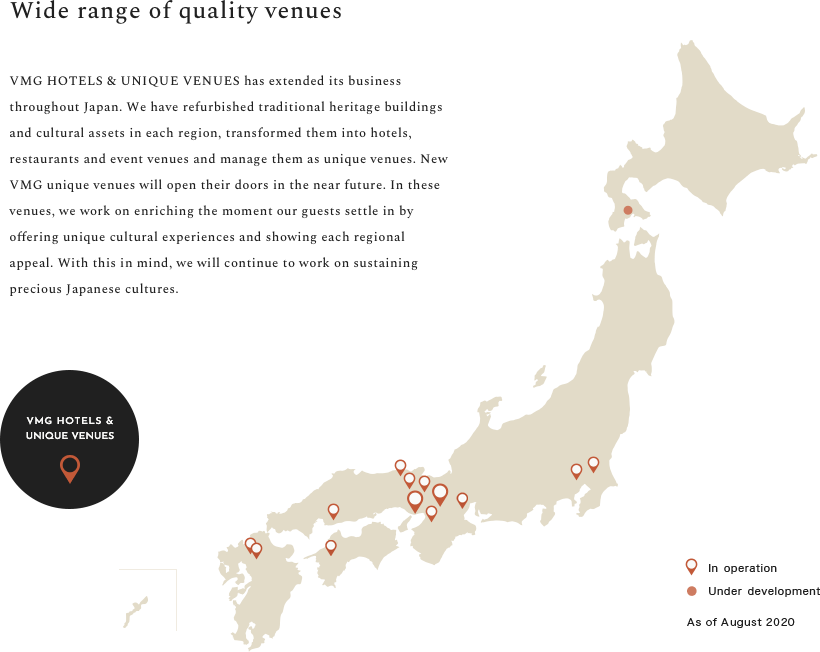 VMG HOTELS & UNIQUE VENUES has extended its business throughout Japan. We have refurbished traditional heritage buildings and cultural assets in each region, transformed them into hotels, restaurants and event venues and manage them as unique venues. New VMG unique venues will open their doors in the near future. In these venues, we work on enriching the moment our guests settle in by offering unique cultural experiences and showing each regional appeal. With this in mind, we will continue to work on sustaining precious Japanese cultures.
VMG concierges' commitment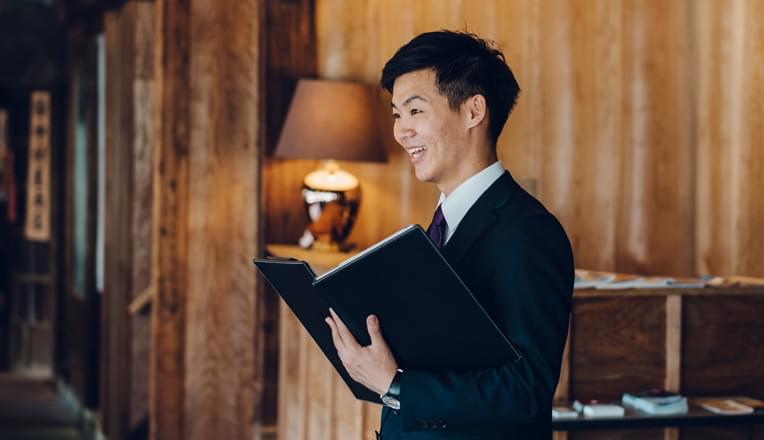 All the staff members at VMG HOTELS & UNIQUE VENUES work meticulously as concierges.
Our staff members are attentive concierges, striving to fulfill each and every customer's request for their unforgettable occasion. As each guest has their own purpose in using our venue, we provide a tailor-made plan for them, hoping the time our guests spend in our places will surely be a precious reminiscence. This is the reason we VMG concierges are here for you. Just share your requests with us.
Instagram
Visit and follow @vmg_huv on Instagram.
Immerse yourself in our ever-changing poetic landscapes in each venue.
follow us